SAINSBURRY'S CHRISTMAS ADVERT 2014
I had the chance to work on this beautifull film directed by Ringan Ledwidge at The Mill London. Lead Matte Painter on the project, working closely with German Casado and Flame Op 2D Lead Andrew Wood and Joseph Tang we had to deliver photoreal matte paintings for more than 50 shots.
We used reference photos of trenches, burned and dying trees and foggy landscapes to start building up concepts.
Once approved by the director, we can apply to all shots the same atmosphere in order to make the soldiers in the correct environment.
For the first section of the ad, we used classic 2D extensions with assets gathered from the shoot that we were able to re-use in our DMP as well as hand painted elements such as dead trees. The strong library of assets was key in creating a historically accurate and aesthetically pleasing matte painting.
On the shot below it was a bit different because we kept only the bird from the original plate. So I had to create a complete new environment.
Then I work closely with 3D Artist James Mullholland who projected the DMP on 3D to recreate mouvment on the barbed, falling snow and comp the bird on top.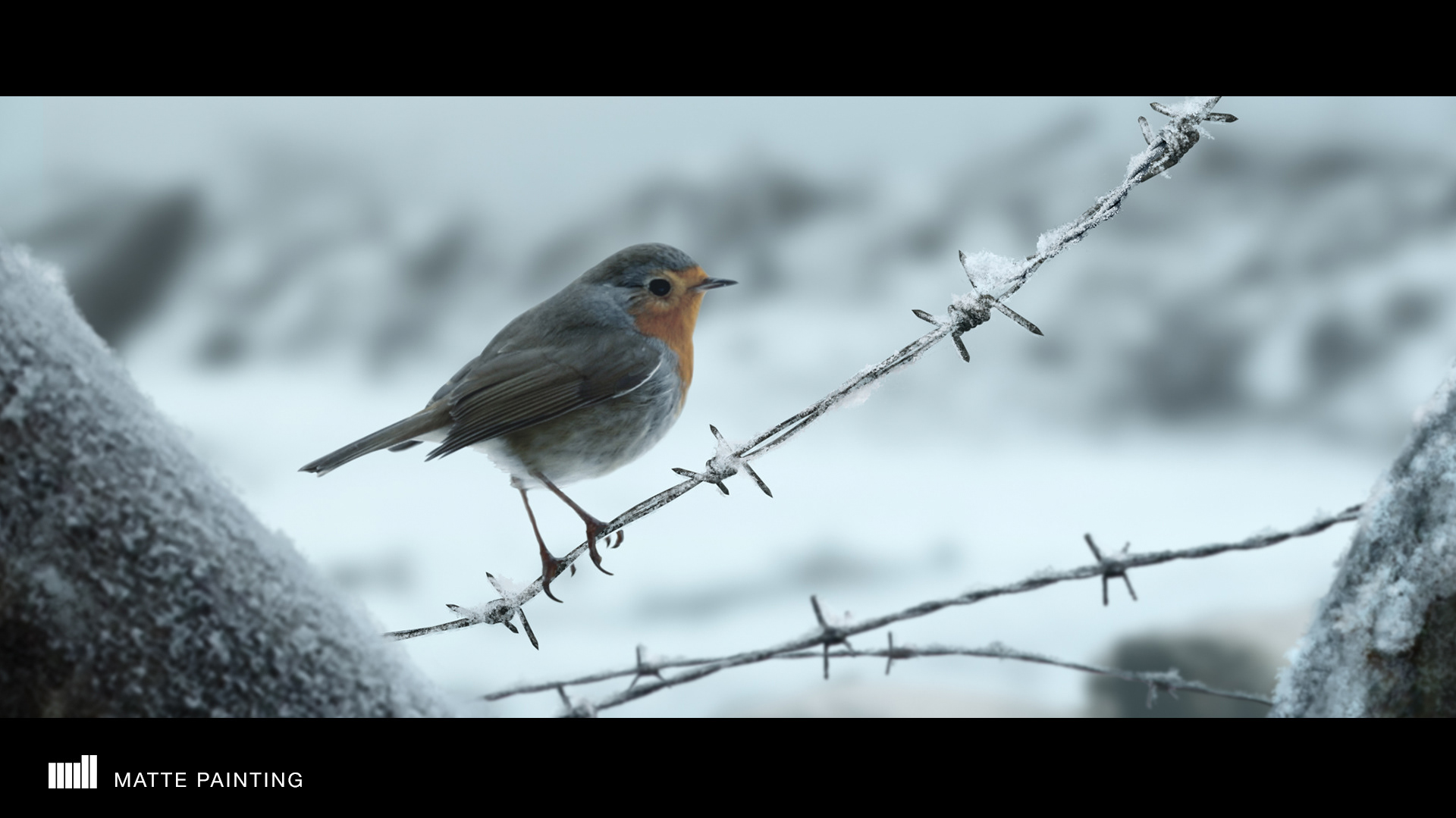 The video below explains the process of 2D matte paintings with breakdowns of key shots.
As the football game consists of a range of shots and camera moves, we chose to re-create the environment using 3D. From this 3D scene, we were able to render out a huge DMP that we then projected into a sphere using Nuke. Each shot was then linked to this sphere using the correct camera angles, 3D tracking and roto. This enabled quick changes to be made to one matte painting, which could then in-turn update all shots at once.
Agency: AMV
Producer: Rebecca Scharf
Creatives: Tim Riley
Account Director: Nikki Holbrow
Production Company: Rattling Stick
Director: Ringan Ledwidge
Executive Producer: Sally Humphries
Director of Photography: Alwin Kuchler
Original music & choir recordings: Woodwork Music
Licensed music: Carter Burwell
Editing Company: Work
Editor: Rich Orrick
Post-Production / VFX Company: The Mill
Executive Producer: Gemma Humphries
Shoot Supervisor: Hitesh Patel
2D Lead Artists: Barnsley
2D Artists: Joseph Tang, Gary Driver and Dan Adams
3D Artists: James Mullholland
Matte Painting: Aurelien Ronceray, German Casado
Assistant Producer: Clare Melia
DCP: Mick Vincent